Sex Addiction Treatment Training
The sex addiction treatment training program is for those interested in treating sex addiction. This course will be taught by: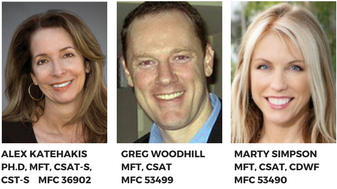 Fall 2018 dates
TBA
Classes will take place from 9am – 12 noon on Saturday over 6 weeks.
For registration and inquires please contact The CHS Office at
or call 310-843-9902
$725 for Licensed Professionals
(18 CEU's for MFT's & LCSW's)
$575 for Non-Licensed Associates
---
Over the course of 6 classes you will gain a comprehensive overview of the following clinical topics:
Week 1: What is Sex Addiction?
Definition and etiology of sex addiction
Week 2: Assessment, Diagnosis, Self-Tests
Assessment and diagnosis of sex addiction and co-occurring disorders
Week 3: Treatment — Containment and Deconstructing Denial
Strategies for implementing effective treatment plans and protocols for sex addiction
Common errors to avoid when treating sex addiction
Week 4: Sex Addiction as Affect Dysregulation
Neuropsychobiological processes and attachment styles related to sex addiction
Week 5: Relational Trauma and the Partner
Disclosure preparation for the recovering sex addict and partner
Effective strategies for couples in recovery
Week 6: Sexuality while in Recovery
Strategic reinstatement of healthy sexuality into the life of the recovering sex addict and partner
The CHS Sex Addiction Training Course will be held at our Los Angeles facility and will accommodate a maximum of 14 students. All mental health professionals are welcome!
Testimonials for this Training:
"The class was wonderful! Alex is an amazing instructor!! A lot of wonderful information covered in a manner that people (especially new therapists) can understand. I am so glad that I was able to attend."
– Sean
"Each class was packed with information! I learned more in this 18 hour course than any of my grad school psychology courses. It was also helpful to illustrate the difference between sex addiction and chemical dependency issues. My only request is to offer more of these courses."
– Patrick
"The course has been really evocative and generative for me – a really useful vehicle to construct my practice with sex addicts."
– Mark
"Alex is the perfect presenter for this material. The mix of clinical information and actual case presentation was perfect."
– Jose
"I learned so much, not only about addiction but couples therapy too!"
– Lyle