Sex Therapy Training
The Sex Therapy Training program is for those interested in developing facility and confidence in sex therapy. The 2019 Sex Therapy training program will be taught by: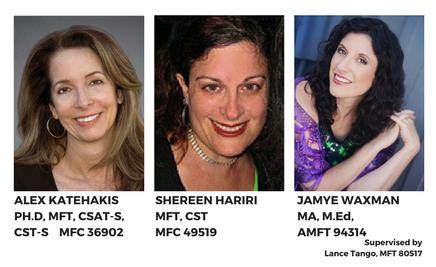 Spring 2019 dates: TBA
For registration and inquires please contact The CHS Office at
or call 310-843-9902
Tuition: $695 
(18 CE's for MFT's & LCSW's)
---
You will gain a comprehensive overview of the following clinical topics:
Introduction to Sex Therapy
Sexual Dysfunction and Treatment
Sexual Dysfunction and Treatment, cont'd
Medical Issues affecting Sexuality; Sexuality in Committed Relationships, & Parenthood
Sexuality & Aging & Coping with Trauma
Alternative Sexual Practices
The CHS Sex Therapy Training Course will be held in Los Angeles. All mental health professionals are welcome!
Testimonials for this Training:
"The course gave me more insight to the topics that I might face when working with clients who present with sexual concerns."
– Sam
"This course gave me more familiarity with the language for medical conditions, sexual behavior, and sexual dysfunction and the accompanying terms. I feel better informed."
– Joe
"I really only had very vague concepts of sex therapy, and the scope of issues and treatment interventions gave me a lot of information for me "tool kit." I also think it will help me better integrate discussions of sex and sexuality with my clients in an affirming way."
– George
"I found it very helpful to understand the behavior in gay life (bathhouses, cruising, image crisis, roles and agreements) and for that matter anything that was outside hetero-normative behavior. It increased my sensitivity towards behaviors and social environments that I don't travel in, but accept and want to be empathetic to."
– Glenda
"The class taught me how to connect with clients on a level much deeper than the "presenting issue," and to hold all of the sexual presenting issues as a part of the whole. It also educated me as to the male and female anatomies in a way that will help me understand when clients are going through physical/sexual stressors."
– M.J.
"Learning about the kink community helped me a ton, so that I can understand the different ways to conceptualize this."
– Victor