2 Week Love Addiction Intensive
The 2 Week Love Addiction Intensive at Center for Healthy Sex is a rigorous love addiction therapy program for groups of men or women which takes place over 2 weeks. It is for people whose desire for love, relationships, or intimacy has brought them to a point in which their life has become unmanageable or they are experiencing serious consequences.
All Intensives are limited to a maximum of 4 clients for more individual attention.
The Intensive offers a highly structured treatment program which consists of a combination of group therapy, individual therapy, art therapy, and education around love addiction. This is an ideal alternative if inpatient treatment for 30 days isn't a viable option. This program provides individuals with the tools necessary to begin to have healthy love and relationships in their lives.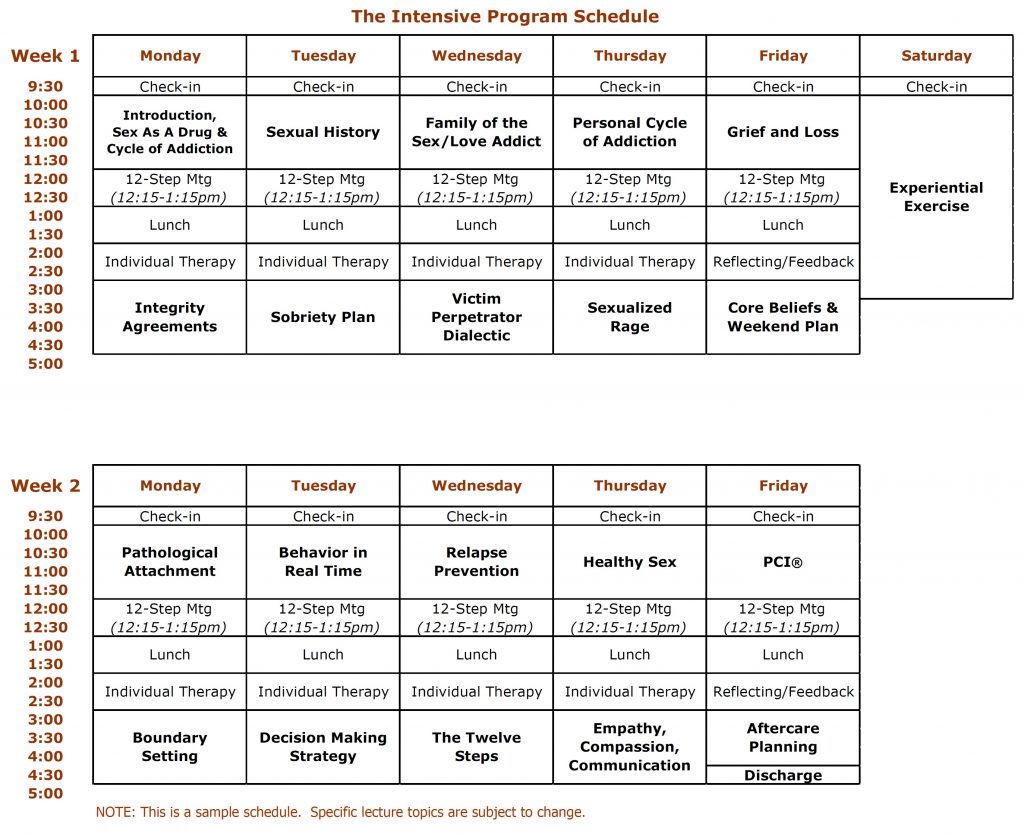 Some situations which may indicate that the Love Addiction IOP is for you include:
Repeated extra-marital affairs
Obsessive, stalking behaviors towards a current or past partner
Loss of job, family, or friends due to romantic relationships
Never feeling satisfied with your current partner or relationship, but unable to leave
Pursuing unhealthy relationships for fear of being alone
Incurring significant financial debt or lending significant amounts of money to lovers in the hope that they will love you back
Pining for a former partner to the point where you are unable to move forward in your life
Feeling like you are in withdrawal after breaking up
The Intensive begins on Mondays and runs through the following Friday (with Sunday off), providing 2 weeks of in-depth therapeutic work to stop the problematic and painful behaviors of love addiction and to begin to create healthy, mutual, loving relationships. Running from 9:30am to 5pm each day, the program is facilitated by a team of therapists who specialize in treating love addiction and offer a variety of expert perspectives. The 2 Week Love Addiction Intensive includes:
individual therapy
group therapy
experiential therapy
art therapy
12-step meetings
nightly homework assignments
Also included in the program are multiple books on recovery and a 100+ page program binder/workbook with specific aftercare plans for each participant.
The first week of the program focuses on breaking down the cycle of your love addiction and understanding its historical roots. The intention of this work is to reduce the shame, guilt and secrets that have spiraled out of control due to the addiction. During week two, the program teaches healthy boundaries, self-care, and what healthy, loving relationships can look like in the future. Additionally, each participant receives a detailed after-care plan. For participants from out of the Los Angeles area, this includes assistance in finding ongoing support in your home city. Our task-centered approach was developed by Patrick Carnes, Ph.D. and our Love Addiction IOP incorporates the theories and teachings of Pia Mellody, author of Facing Love Addiction.
Sober Living
During the Intensive, ALL clients stay in professionally managed sober living homes.  Sober living fees are paid directly to the house with no financial involvement with Center for Healthy Sex.  Your fees include meals, housing, and transportation.   A sober community of support is far better than the isolation of a hotel or the familiar surroundings of home. We require sober living because we want our clients to have the best possible outcome from the program.  The intense nature of this experience necessitates a higher level of support and care.  Some of the benefits of staying at sober living are:
It prevents isolating behaviors following the daily treatment regimen. Addiction thrives in isolation.  Most often, we house all of our Intensive participants together for the camaraderie and a cohesive experience.  Surrounding yourself with others focused on recovery will keep you safe and sober as you work a rigorous treatment program.
It provides supportive structure and containment when away from our treatment facility. Participants stay a total of 13 nights at the house so you have time to settle-in before the program begins and re-center yourself before returning home. The house managers will help you stay on track with your program schedule and in alignment with the kind of recovery that you'd like to have. To experience a higher level of care, we encourage you to check-in your online devices with the house managers to limit distractions and remove temptations.
It ensures more accessible support during the evening, morning, and weekend hours. Recovery can be challenging.  It's even more so when you're triggered for several hours each day while doing some deep healing work with us. The women who support you at the sober living house will provide you with 24-hour care during your stay.  For camaraderie, the fellows who are also in your program will share the sober living experience with you.
It provides reliable transportation. There is no need for the additional stress of navigating the notorious Los Angeles traffic and challenging parking situations.  We have a tight schedule to keep, and the sober living house will make sure you're on time for your sessions and meetings.  The transportation services also include pick-up and drop-off at LAX airport, if needed.
It provides meals at breakfast and dinner. To minimize distractions and to maintain a cohesive experience with your fellows, meals are provided during your stay.  If you have any special diet restrictions, speak to the house managers about your needs ahead of time.
Past participants have stated that staying at sober living was an important part of their recovery experience and that it was better for their budget when they added the costs of hotels, car rentals, paying for parking, and paying for meals each day. With so many advantages to this kind of support, we're confident that sober living is the best place to be for our 2 week Intensive clients.
To register or consult with our compassionate intake counselors,
Please call (310) 843-9902