Sex Addiction Intensive

The CHS Intensive for Sex and Love Addiction is a highly effective treatment model for regaining control of your life through concentrated, high-intensity therapy and cognitive restructuring to stop addictive behaviors.
We're here to help.
To register or consult with our compassionate intake counselors please call (424) 341-3406.
The Intensive Program for Sex Addiction at Center for Healthy Sex is an in-depth, outpatient sex addiction therapy program. It is intended for individuals who need to stop compulsive sexual patterns address root attachment, trauma and family issues and begin to construct a sex life free of lies, shame and drama.
Intensives are limited to 4 participants in order to ensure individual attention.
The CHS Intensive offers a higher level of care than is delivered during weekly, individual and group therapy. It's a great option for individuals who may not require a 30 day in-patient sex rehab program to make important changes in their lives.
The Intensive runs all day—from 9:30 am to 5:00 pm—and is facilitated by a team of therapists who give a variety of expert perspectives. Each one is committed to bringing about a successful recovery. The program includes:
individual therapy
group therapy
experiential therapy
art therapy
12-step meetings
nightly homework assignments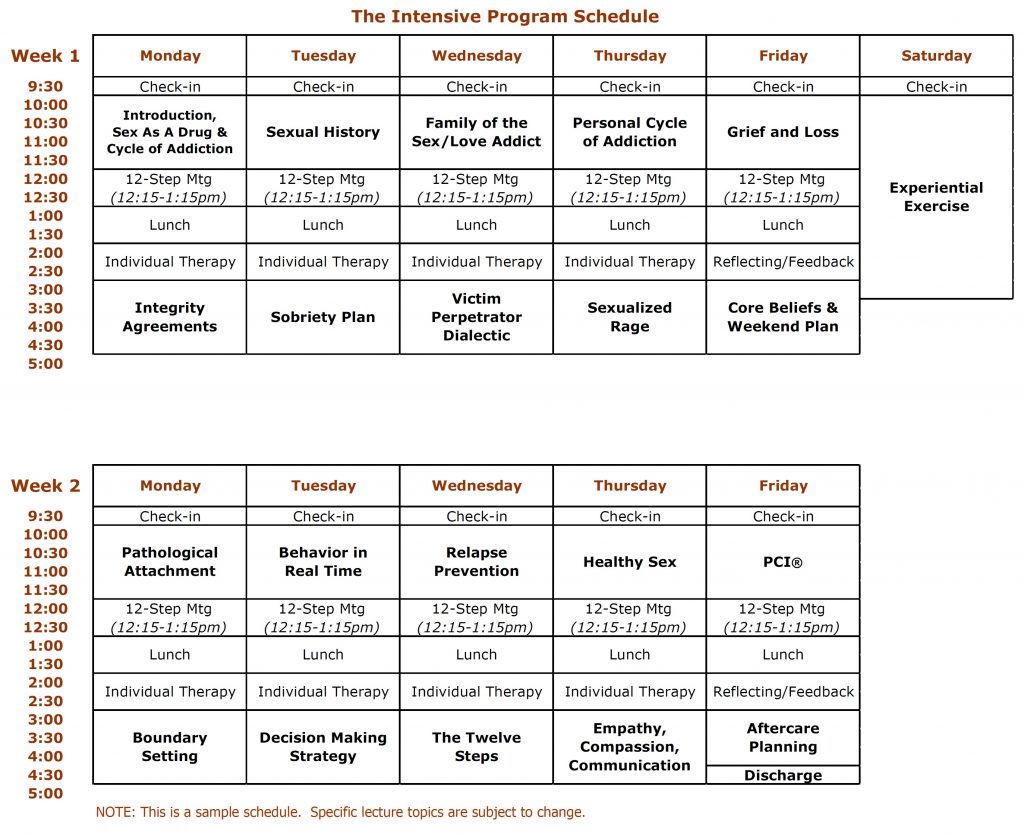 Intensive Pricing – $8,500 ($2,500 deposit)
Includes initial comprehensive assessment and all reading material. Some insurances may apply.
Sober Living – $3,500*
Professionally managed sober living facilities are conveniently located. Includes meals, housing and transportation. (*Please note: Sober living fees are paid directly to the house with no financial involvement from Center for Healthy Sex and are subject to change.)
We welcome your calls daily and are here to help you get your life back!