Behind the Scenes at CHS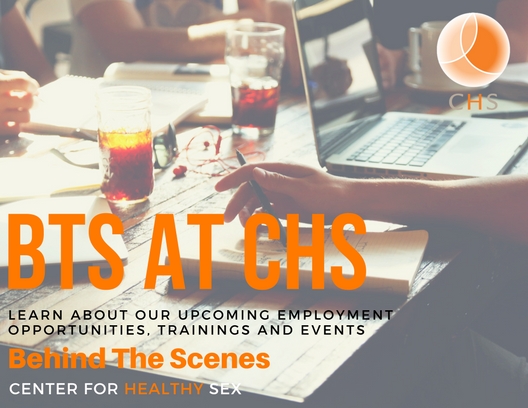 Free event!
Saturday, January 13, 2018 | 9 – 10:30 AM
Event Full! If you'd like to be notified of future BTS at CHS events, please e-mail charlie@centerforhealthysex.com.
We're opening our doors to the public, granting an inside look at our wellness treatment facility and showcasing what a future at Center For Healthy Sex could look like for you. Whether you're a sexual health professional looking to gain some insight about our clinical approach and practices, or if you're just curious about what it is we really do here, you are welcome to join us for a 90 minute information session led by our Clinical Director, Dr. Alexandra Katehakis as well as our Executive Director, Douglas Evans. In this session, we'll be discussing employment opportunities, our apprenticeship program, training, special events, and more!
This event will take place at Center for Healthy Sex, 10700 Santa Monica Blvd., Los Angeles, CA 90025.
To RSVP or if you have any questions, please e-mail charlie@centerforhealthysex.com, or call us at 310-843-9902.