Upcoming Events, Lectures and Trainings
The following events are open to the public. Clients, professionals, and curious minds are all welcome to attend and participate.
Click here to join our mailing list!
Click here for recordings of past events.
---
Is It Sex Addiction or Just Bad Behavior?
by Dan Lacovara, MFT
Saturday, November 18, 2017
9:30am – 1:30pm, CSU Northridge
14561 Oxnard Street, Van Nuys, CA 91411
4 CEUs available – $70
Read More
The concept of sex addiction is a controversial topic among both the general public and some who work in the addiction field. While the terminology and diagnostic criteria may not fit the traditional model of addiction, it cannot be ignored that there are individuals whose sexual behaviors at some point become unmanageable, have wreaked havoc on their lives and the lives of others. But just as alcohol is merely a means to an end for the alcoholic, sex addiction has little to do with sex. Rather, it can be thought of as a syndrome that presents as an ongoing re-enactment of deeply entrenched and unconscious adaptive patterns typically borne of early relational trauma or later childhood trauma and neglect. Dysfunctional as the behaviors are, it can become a desperate search for identity and belonging. To understand the etiology of sex addiction, one must examine it from a relational, affective and neurobiological perspective. Only then can it be diagnosed and treated in an effective manner. The instinct to have sex is a basic human drive, however. How can an individual express healthy sexuality when sex is the very thing that is so destructive? Is "recovery" possible?
Daniel Lacovara, MFT, is the Clinical Outreach Specialist at CHS. Daniel's role is to provide sex therapy and sex addiction training and education to graduate schools and clinical training sites. Before joining CHS, Dan worked at the Los Angeles Gay and Lesbian Center, where he worked with clients with substance abuse and mental health problems such as anxiety, depression and grief and loss. In addition, he designed the curriculum for and co-facilitated the Center's first Sexual Compulsives Group for men. He has participated in Group Psychotherapy Association of Los Angeles (GPALA) trainings on psychodynamic and relational work in group therapy and with the California Association of Mental Health (CAMFT) on depression and its impact on intimate relationships. He has also received training in attachment theory and Bowenian approaches to individual and couples treatment at the Bowen Institute in San Diego.
For Registration Information contact Heidi Kwok: heidikwok2000@yahoo.com
---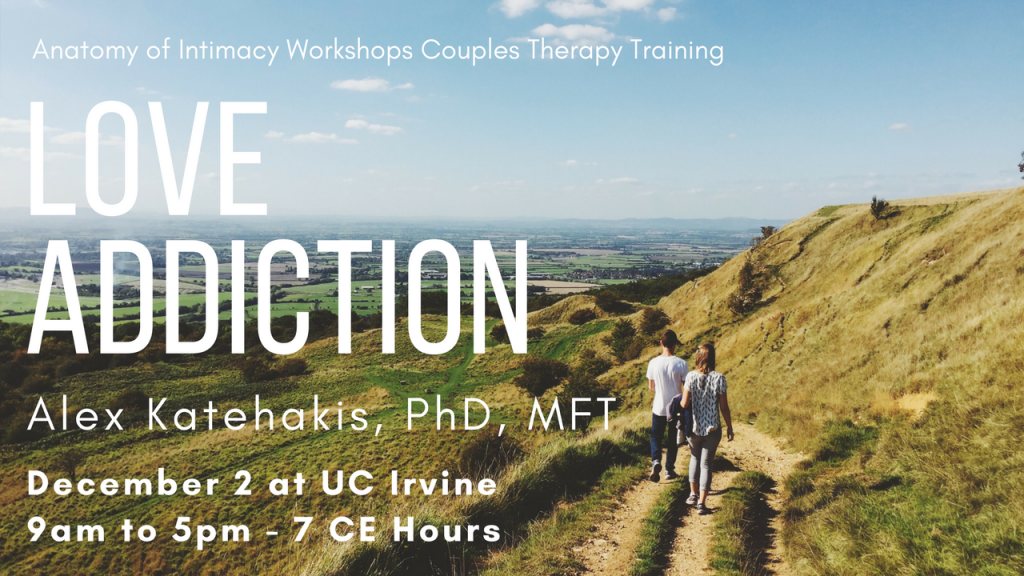 Join Alex Katehakis at UC Irvine on December 2nd as she participates in their Anatomy of Intimacy Speakers Series.
Read More
Love addiction is an intimacy disorder manifested in an adult as preoccupation with an idealized, fantasy relationship that, ultimately, acts as a barrier between the person and the object of his/her desire. It is deeply rooted in a constant need for attention, validation, nurturing, and connection. When challenged to surrender unhealthy attachments to sex and fantasy, love addicts struggle with tolerating the pain of the past that begins to emerge into conscious awareness. Love addicts typically choose love avoidants, who are often sex addicts.
When the sex and love addicted couple comes into treatment, therapy can feel daunting due to the morass of secrets and lies between the pair, and the complex, unconscious dynamics pervasive in the relationship. A psychobiological approach to treating "love addiction" utilizes the principles of Interpersonal Neurobiology and affect regulation in service of healing the client's early attachment and regulatory wounds.
Through powerful clinical videotape, case presentation, and role-play, Dr. Katehakis will demonstrate how to apply regulation theory when working with love addicts, also using 12-Step programs and focus on the somatic. Case presentations will illustrate how love addiction, much like sex addiction, is a dissociative disorder and how the acuity of symptoms experienced by love addicts keeps them in relationships with people who are unavailable and they can't bear to leave. Dr. Katehakis shares her work with wisdom and courage. You'll appreciate her depth of her knowledge and ability to synthesize complex concepts into a coherent model with practical application.

For more information, including location and registration, 
click here!
---
Mirror of Intimacy webinar series
December 4, 2017, 12 noon (PST)
Interactive webinar with Alexandra Katehakis, MFT, CST-S, CSAT-S on the theme of Vulnerability from our award-winning daily meditation book "Mirror of Intimacy"
Our Mirror of Intimacy webinars now take place on Facebook Live! To view the webinar, simply like our page on Facebook and log on to Facebook at 12pm PT on October 2, and you'll see an announcement that the live event is starting. If you have any questions, please e-mail charlie@centerforhealthysex.com.
---
The Sex Expert webinar series
December 8, 2017, 12 noon (PST)
Interactive webinar with Marty Simpson, LMFT, CSAT, CDWF, on After the Awakening: Learning To Help Your Partner Heal From Your Betrayal
Read More
Now that you're sober why is your partner still so angry? You're moving forward and they're stuck in the past. Will it always be like this? Will you ever catch a break? If you don't understand the neurobiology of trauma then your best intentions may be making things worse. But you actually have all you need to help your partner heal. Join partner specialist, Marty Simpson, LMFT, CSAT as she introduces effective tools you can use right away for long-term healing and relationship growth.
Martha "Marty" Simpson, LMFT, CSAT, CDWF has extensive experience in the field of sex addiction treatment. She is a Licensed Marriage and Family Therapist, a Certified Sex Addiction Therapist, and a Certified Daring Way® Facilitator in private practice. Trained in the Psychobiological Approach to Couple Therapy (PACT-2), the Association for Partners of Sex Addicts Trauma Specialists (APSATS), Principals of Group Psychotherapy training with The Group Psychotherapy Association of Los Angeles (GPALA), EMDR, and Pat Ogden's Sensorimotor Processing, a somatic & attachment based trauma training, Marty has a specialty working with partners of Sex Addicts and Couples in Recovery.
---
Join Alexandra Katehakis this April at Esalen!
April 6 – 8, 2018
Esalen Institute, Big Sur, CA
CHS Clinical Director Alexandra Katehakis hosts a Weekend Workshop in Beautiful Big Sur!
Read More
Do you know the difference between intimacy, desire, and eroticism? Do you find yourself churning through lovers because your sexual desire drops off over time? This in-depth workshop for women will assist in revealing the answers to these questions, which reside in past sexual experiences and in sexual fantasies. When we deconstruct shameful family of origin and cultural messages about what "good girls" do and don't do sexually, we can honestly admit our most ardent sexual desires to ourselves.
Click here for further details and registration!
---
Click here to view information on past events.