The Pornography and Sex Addiction Men's Group at Center for Healthy Sex takes a specific approach to treatment by utilizing the impact of peer experience and peer support to create a strong foundation for sobriety.
We know that anxiety, depression, isolation, and sexual dysfunction are symptoms that may occur as a result of compulsive porn usage and/or destructive sexual patterns.
This process group will offer concrete interventions to help you stop the compulsive sexual behavior to restore your sexual health.
This group is limited to 7 participants due to the intense nature of this therapeutic work.
Current Schedule:
9:00 – 11:00 am | Saturdays | $85
Visit our group therapy schedule page for our current schedule of all group programs. We invite you to call CHS to register or for more information @ (310) 843-9902
Alexander Gittinger is an associate clinical social worker and primary therapist at Center for Healthy Sex. His approach to therapy is based on trauma informed care and exploring the underlying issues that manifest in addictive behaviors. He is passionate about helping individuals overcome their compulsive behaviors and access their inner self-energy to heal from traumatic wounds and fulfill their true potential in life. His lived experience has taught him how the combination of 12-step work and psychotherapy can lead to a profound transformation in one's life. He has worked as a California State Certified Alcohol and Drug Addiction Counselor, specializing in sex addiction recovery coaching since 2010. He holds certifications in Sex Addiction (IITAP), Choice Theory, Relational Gestalt Therapy, Trauma Informed Care, and is pursuing a certification in Internal Family Systems. He is affiliated with NASW, CCAPP, and is on the board of directors of a civil rights organization. ASW #94732. Supervised by Alexandra Katehakis, MFT #36902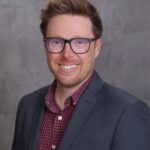 Dallen Myers is a primary therapist at Center for Healthy Sex. He has worked in settings including college counseling, private practice, and community mental health. Dallen has experience working with a wide range of presenting concerns including grief/loss, depression, trauma, relationship issues, substance use, and anxiety. He takes a particular interest in working with individuals and couples who struggle with sexuality and sexual dysfunction after conducting sex therapy and treatment of individuals with sex offenses during his graduate training. He believes in openness, nonjudgment, and individualized treatment in order to alleviate psychological discomfort experienced by his clients. Dallen graduated with a Doctoral Psychology degree from the University of Indianapolis. He is registered by the California Board of Psychology as a psychological associate #PSB94027277 supervised by Vernon Lee, Ph.D., CSAT, SAP #PSY15905